[ad_1]

ROSEVILE, Minn. (FOX 9) – A crow, a mallard, and a hooded merganser—these are just a few of the cases of bird flu the Roseville Wildlife Rehabilitation Center has seen in the past few weeks.
Executive Director Dr. Renee Schott says 70 percent of birds treated by WRC staff have tested positive for avian flu. The classic signs and symptoms of the virus are neurological.
« You'll tend to see animals out of balance, not walking well, sometimes with a crooked neck or their necks in an awkward position, » Schott told FOX 9.
From March 28 to May 1, 2022, the Raptor Center tested 188 birds upon entry to the centre. Outcomes included 114 positive cases, 67 negative, and seven pending cases. Of those infected, the leading species were 54 great horned owls, 28 bald eagles and 18 red-tailed hawks.
Dr. Schott says the high incidence of avian flu in great horned owls and bald eagles may be due to these raptors feeding on smaller birds.
« A duck dies with it and then a raptor feeds on that carcass, or a crow goes and feeds on the side of the road, » Schott said.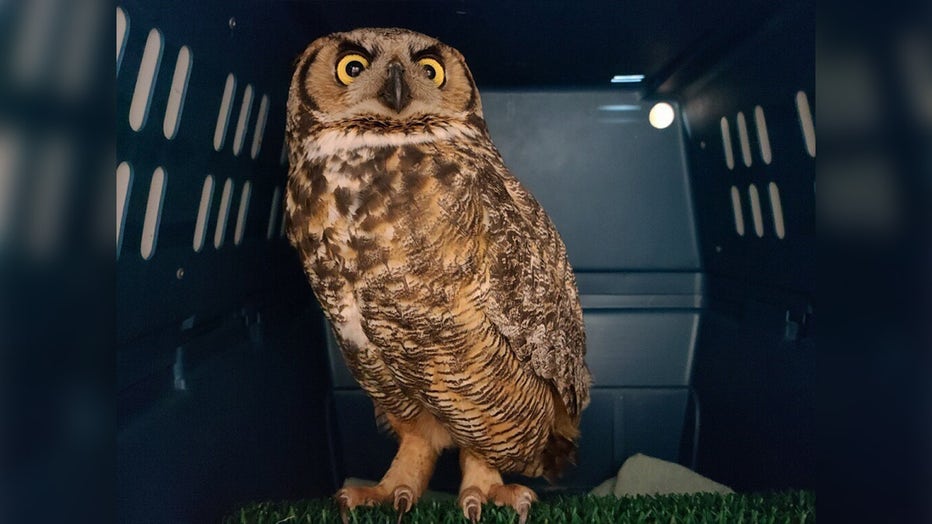 Champion, a great horned owl, has been a rare survivor of the avian flu that has spread across Minnesota.
It now encourages people to bring birds displaying symptoms of the virus to the center to curb further spread.
« If you see a bird that exhibits these signs and symptoms, and it's a bird you can catch, you certainly can. You have to prepare yourself first, as this virus can be passed on to humans, » Schott said.
Schott recommends wearing disposable gloves and an N-95 mask before lifting the bird with a towel. Put the bird in a cardboard box, seal it with tape, and bring the bird to the center's outer triage area.
« Make sure you still wear your mask when you get in the car because that bird is still breathing in that box, » Schott said.
But in the midst of all this terrible news about bird flu, there's a glimmer of hope.
The University of Minnesota Raptor Center says about the dozens of deadly cases they've seen this year, one patient has tested positive and they've beaten the virus.
Champion, a great-horned female owl, was released back into the wild on Tuesday.
Dr. Raptor Center Executive Director Victoria Hall said.
[ad_2]

Source link